Ideal conditions herald 2018 Undaria harvest
Posted Monday 10 December 2018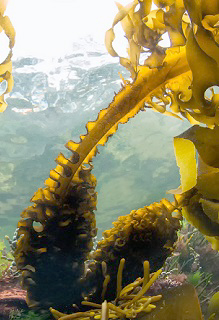 Marinova is excited to announce that its annual harvest of organic Tasmanian Undaria pinnatifida seaweed is underway. After another cool Tasmanian winter and an early beginning to the spring growth season, 2018 is set to deliver an abundance of exceptional quality seaweed.
Until the end of December, Marinova's divers will hand-harvest the Undaria seaweed along the beautiful east coast of Tasmania, commencing near the pristine Bay of Fires and moving south along the coastline as the harvest progresses.
The entire process – from harvesting to extraction – is undertaken with care and precision. The fucoidan-rich Undaria spore is delicately harvested from the seabed once the plant has reached maturity.
The fresh seaweed is then sorted to separate the mekabu spore from the wakame leaves and undergoes a final inspection to ensure the absence of shells and crustaceans. The leaves are immediately hung on racks to air-dry and preserve the bioactivity of the fucoidan within. Lastly, the spore undergoes processing using Marinova's proprietary solvent-free extraction process to isolate the natural fucoidan compounds for the Maritech® fucoidan ingredient range.
The commencement of this year's harvest coincided with Australian Organic Awareness Month which is celebrated throughout the month of September. The campaign highlights the importance of certified organic products, including non-GMO, biodiversity friendly, sustainably sourced and socially responsible attributes.
Marinova's organic Undaria seaweed exemplifies these values and attributes. As an invasive plant introduced into Tasmanian waters approximately 30 years ago, the annual harvest and removal of Undaria seaweed allows the native marine ecosystem to continue to thrive.
The Marinova team looks forward to sharing further news as the harvest continues.