Marinova lodges Natural Health Product Master Files with Health Canada
Posted Monday 19 February 2018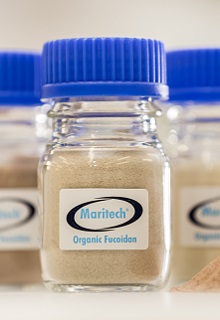 Marinova is pleased to share the news that its Maritech® fucoidan products, extracted from Undaria pinnatifida and Fucus vesiculosus, now have Natural Health Product Master Files lodged with the Natural and Non-prescription Health Products Directorate (NNHPD) of Health Canada.

Natural Health Product Master Files contain comprehensive information about an ingredient, including details of safety, clinical efficacy data and quality. Now that this information for Maritech® Undaria and Maritech® Fucus products has been registered with the NNHPD, clients need only reference the relevant master file when licensing a product.
Marinova's Managing Director, Mr Paul Garrott, explained what this development means for clients. "Our company is continuously finding new ways to assist clients in their business practices. By undertaking this initiative, we have simplified the process for clients who wish to licence their products, containing Maritech® fucoidan, in Canada."
All natural health products sold in Canada must be licensed as part of the Natural Health Products Directorate (NHPD). Further information can be found on the Health Canada website and from Marinova.