MULTIFUNCTIONAL FUCOIDAN AND POLYPHENOL COMPLEX
Maritech® Synergy is a highly characterised, certified organic complex of fucoidan and marine polyphenols, sourced from wild Fucus vesiculosus seaweed. This seaweed (commonly known as bladderwrack) grows in the pristine ocean waters of Nova Scotia and Brittany, where it is harvested on an environmentally sustainable basis.
Polyphloroglucinols are the polyphenolic compounds found in Maritech® Synergy (an indicative structure is pictured on the right or below). These compounds, together with fucoidan, help protect the seaweed from the harsh elements of its environment, such as UV radiation and pathogens.
Clinically tested and with twice the antioxidant power of vitamin C, this natural extract is a superior choice for formulators requiring a unique nutritional ingredient with multifunctional benefits.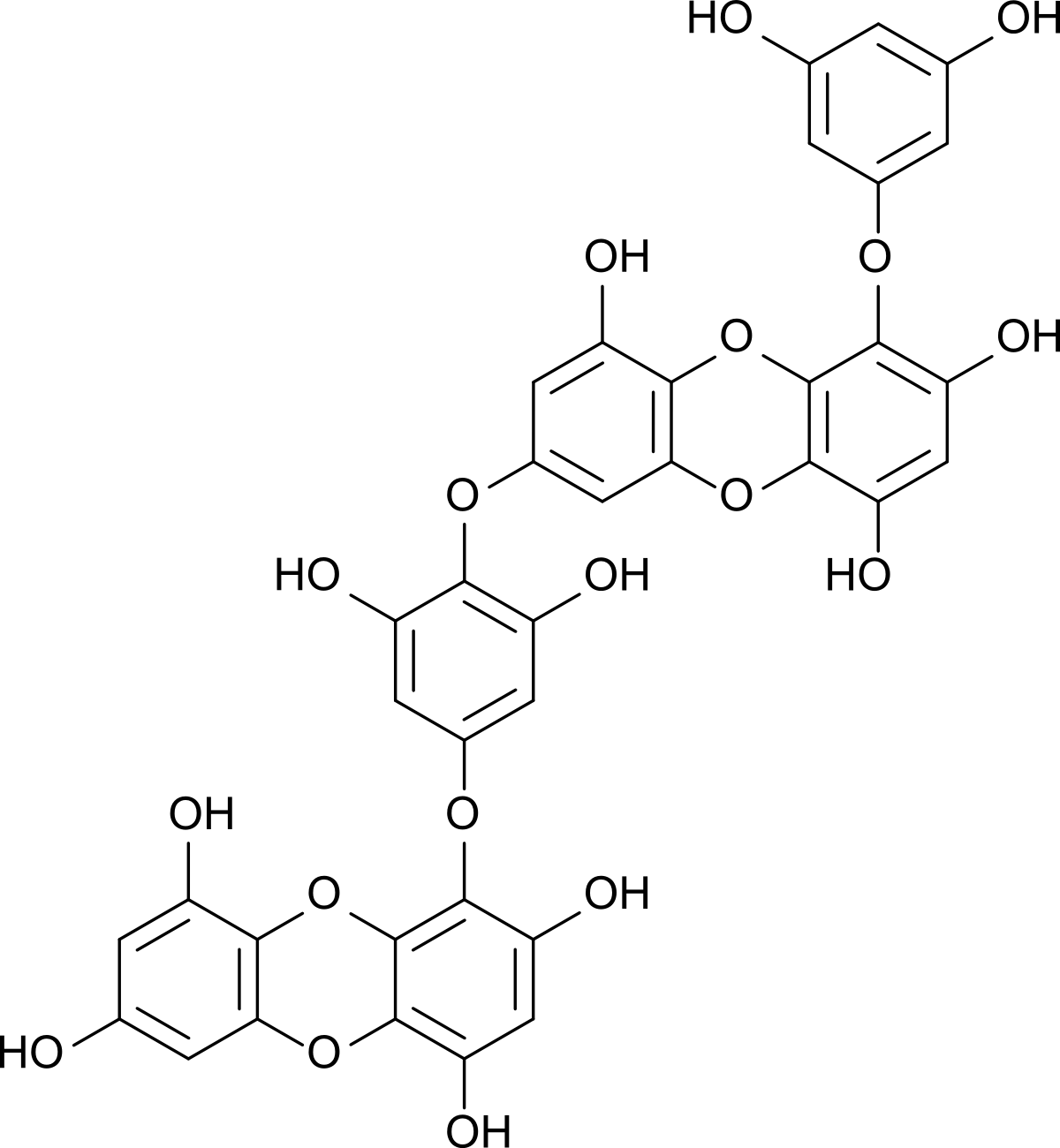 EVIDENCE
Maritech® Synergy has undergone extensive in vitro, in vivo and human clinical testing. Examples of the potential benefits and biological effects identified in this testing include:
Antioxidant
An exceptional ORAC 6.0 power
80% of the total antioxidant power attributable to superoxide
A superoxide scavenging ability 86x greater than resveratrol and 38x greater than curcumin
Anti-ageing
Increased Sirtuin-1 (SIRT1) levels by 32.4% in human cells
Glycation inhibition by up to 45%
Reduction in elastase, tyrosinase and collagenase activity by 99%
Anti-inflammatory
Reduction and downregulation of Interleukin-6
Inhibition of COX1, COX2 and LOX15 activity
Significant reduction in colon and stomach inflammation
Inhibition of the inflammatory enzyme hyaluronidase
Gut health
Increased function of tight junctions in the gut wall
Reduction of the clinical signs and markers of ulcerative colitis
Inhibition of H. pylori adhesion to human stomach cells
Inhibition of E. coli adhesion to human epithelial cells
Inhibition of stomach ulcers and inflammation
Immune function
Significant increase in cytotoxic T cell numbers and the phagocytic activity of monocytes and granulocytes
Broad spectrum anti-viral activity
SAFETY
Clinical testing has confirmed that Maritech® Synergy is safe for human consumption. It is a natural seaweed compound that has been shown to be non-toxic and non-allergenic.
FEATURES
Certified organic
Solvent-free extraction
Kosher, Halal, Vegan
Gluten free
Non-GMO
Allergen free
Preservative free
Water soluble
Easy to formulate
Produced in Australia in ISO9001, HACCP & GMP certified facilities
REGULATORY STATUS
Generally Recognised as Safe (GRAS), USA
EU Novel Foods approval
TGA Listed Ingredient, Australia
Compliant with Algae Product requirements, China
KFDA registered, Korea