Marinova recognised with Business Excellence award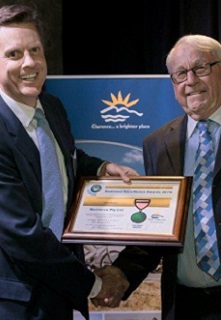 For the second time, Marinova has won the Premier Award at the Business East Excellence Awards. The awards recognise the success, ingenuity, environmental sustainability and community involvement of businesses in the local municipal area of Clarence, Tasmania.
In just 15 years Marinova has grown from a small start-up to the international leader in its field. The company has established its niche leadership position through extensive and ongoing investment in R&D, product quality and exceptional regulatory and customer support.
Recent achievements include receiving global media coverage for new research, key speakerships at international conferences, and new regulatory and patent approvals in multiple jurisdictions.
Marinova exemplifies sustainable practices in every element of its business, including its wild harvested seaweeds, solvent-free technology and zero-waste extraction process. The company has also been recognised for its significant contribution to the local Tasmanian community and the Australian science and advanced manufacturing industries.
Marinova's extensive research program is supported by its partnership with leading research institutions around the world. The company is currently investigating the benefits of fucoidan in a range of clinical applications, including stem cell research, cancer, inflammatory bowel disease and diabetes.
Marinova's Managing Director, Paul Garrott, was honoured to be presented The Premier Award by the Chairman of Business East, Mr John Beattie.