Meet Marinova's newest Laboratory Chemist
Posted Wednesday 2 August 2017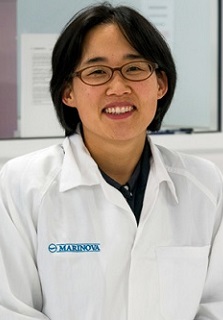 Marinova is thrilled to introduce our newest team member, Dr Ahyoung Park. Dr Park has an extensive background in biology, analytical and inorganic chemistry and professional experience across five countries. Read the brief interview below to learn more about Dr Park's role at Marinova.
What is your background?
I was born in Busan, South Korea before my family immigrated to Wellington, New Zealand when I was 15. It was a very different lifestyle to Korea and the language barrier was certainly a challenge! I've also lived and worked in Canberra, the UK and Germany, before moving back to Australia with my husband and two children to pursue my career in Tasmania.
What excites you about working at Marinova?
I am a passionate advocate for the use of seaweed! In the Korean culture, brown seaweed is of great cultural significance. We regularly consume seaweed in our diet and use it therapeutically, such as after giving birth where it's believed to help with lactation and reducing swelling around the body. Given this cultural significance, I'm eager to get involved in applying my scientific skills to further research the health benefits of seaweed derivatives. I'm also very excited to be working for such a vibrant and successful Australian business and really enjoy living in the beautiful surrounds of Tasmania with my family!
What did you study at University?
I studied an undergraduate degree at Victoria University of Wellington in New Zealand majoring in Chemistry and Technology, followed by an honours degree at the Australian National University in Canberra specialising in analytical and inorganic chemistry.
I've always had a keen interest in biology which led me to a PhD investigating proteins in DNA replication in Canberra. Upon completion of my thesis, I was privileged to be accepted into a postdoctoral fellowship at the University of Cambridge and University of Oxford studying large biological molecules using mass spectrometry. I continued my research career in Germany with a postdoctoral position on protein-targeted drug design with small molecules using X-ray crystallography.
As a chemist in Marinova's laboratory, what are some of your day to day responsibilities?
My role provides technical expertise to the wider Marinova team and is primarily carried out in the laboratory. A typical day involves testing our fucoidan extracts for key parameters; moisture, pH, purity, carbohydrate content and other components. I am also responsible for critical QA and QC procedures. These include examining our products to confirm the absence of biological contaminants such as yeasts or moulds to ensure the fucoidan extracts always meet specification without micro-bioburden.