Successful Tasmanian wakame harvest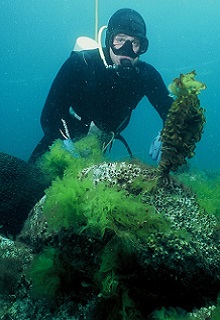 Marinova has completed another successful seasonal harvest of organic Tasmanian Undaria pinnatifida seaweed. This past year has boasted exceptional conditions for the growth of this seaweed with optimal cool temperatures and pristine water quality. The harvest spanned three months along the east-coast of Tasmania, including the idyllic coastal areas around Bruny Island and Maria Island.
Native to Japan, Undaria pinnatifida seaweed is a pest species that was introduced into Tasmanian waters about 30 years ago. Marinova monitors the growth of Undaria seaweed and has harvested more than 650,000 kg over the past 14 years, thus removing substantial quantities of this marine pest from the Tasmanian marine environment.
Undaria seaweed is hand-harvested and collected by professional divers when the plant reaches its peak growth cycle. It is then checked for any foreign objects such as shells and crustaceans, and the Undaria spore (known as mekabu) is separated from the leaves (known as wakame).
The fresh wakame leaves are hung immediately on racks and sun-dried to preserve the seaweed and its bioactive compounds. This whole leaf is packed full of essential and bio-available vitamins, minerals and trace elements, as well as functional phytonutrients, including fucoidan, polyphenols, omega-3 essential fatty acids and fucoxanthin.
Marinova's premium wakame leaf has organic, non-GMO, Kosher and Halal certifications. Recently, it was awarded a silver medal in the prestigious Australian Food Awards, with superior marks for texture and intensity of flavour. It also stars in many innovative culinary delights such as baked wakame bread, wakame cheese, sauerkraut and even seaweed infused gin!
The Undaria spore – rich in fucoidan polysaccharides – is processed using the solvent-free Maritech® extraction technology to produce Marinova's range of high-purity Undaria pinnatifida fucoidan extracts.