Press Release: Treatment hope for peptic ulcers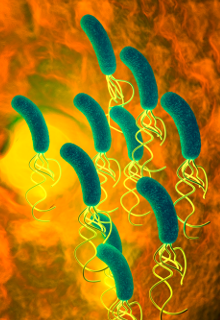 Fucoidan, a unique seaweed extract, shows promise for the treatment of Helicobacter pylori-related diseases and gastric cancer, according to new research undertaken at the University of Western Australia.
Helicobacter pylori (H. pylori) is a bacteria that infects more than half of the human population worldwide. Infection of this bacteria is a primary cause of chronic stomach inflammation, peptic ulcer diseases and gastric cancers, leading to more than one million deaths per year.
Effective treatments for H. pylori are limited with a rising percentage of treatment failures, primarily due to antibiotic resistance. Alternative and additional treatment options are widely recognised as a significant global healthcare issue. Results from this latest study show that fucoidan, a sulphated polysaccharide found in brown seaweed, may offer a solution.
The study took place at the University of Western Australia in the laboratories of Nobel Prize Laureate Professor Barry Marshall, who is recognised for his discovery of H. pylori and its role in gastritis and peptic ulcer disease. The research involved testing fucoidan extracts derived from the Fucus vesiculosus and Undaria pinnatifida species of brown seaweed. These certified organic, high-purity extracts were developed and produced by Australian biotechnology company, Marinova Pty Ltd.
The in vitro studies showed fucoidan extracts are extremely effective at dislodging H. pylori from infected human stomach cancer cells. This significant result positions fucoidan as a potential alternative to the increasingly inadequate antibiotic treatments.
Dr Alfred Chin-Yen Tay, Research Associate at The Marshall Centre for Infectious Diseases who supervised the study, said: "These research findings are an encouraging step forward in the control of H. pylori-related diseases. Fucoidan is a natural extract and oral delivery to the stomach is simple. It would be a welcome option for suffering patients, especially before having to undergo invasive diagnosis and treatment options."
The study also showed fucoidan exhibited significant anti-cancer activity. Researchers found that the fucoidan extracts were profoundly toxic to human gastric cancer cells in vitro. Gastric cancer is the third-leading cause of cancer-related deaths worldwide, with H. pylori strongly associated with these cases.
Chief Scientist at Marinova, Dr Helen Fitton, highlighted the significance of these research findings: "The cytotoxic activity of fucoidan towards gastric cancer cells is extremely encouraging and illustrates a dual benefit of fucoidan. Not only can it remove the H. pylori bacteria from infected cells, but it can also induce stomach cancer cell death.
"Interestingly, the fucoidan extract with the highest concentration of antioxidant compounds showed the strongest bioactivity."
Future human clinical trials will further investigate the potential for these seaweed extracts to treat gastric cancer and other H. pylori-related diseases.
The research was published in the well-respected journal Evidence-based Complementary and Alternative Medicine.