Marinova celebrates 2019 International Women's Day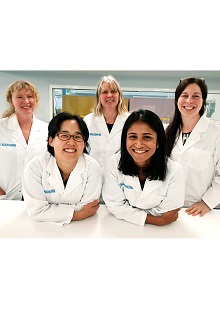 Marinova celebrated International Women's Day on 8th March 2019, recognising the talented women who are part of the Marinova team and their contribution to the company's success.
International Women's Day shines a light on the importance of gender equality in the workplace in all disciplines, including in the STEMM (science, technology, engineering, mathematics and medicine) area in which Marinova operates.
The focus of the 2019 International Women's Day campaign is 'Balance for Better'. Whilst the number of female science graduates in Australia is equal to that of their male counterparts, this number drops to less than two women in every ten positions held at a senior level.
Marinova is an advocate of gender equality in the workforce. The company's success is testament to the high level of talent it has attracted from all professional backgrounds. Five female scientists sit within the Marinova team, each of whom excel in their particular area of expertise.
Pictured above from left to right: Marinova's Chief Scientist, Dr Helen Fitton (Applied Polymer Chemistry); Laboratory Chemist, Dr Ahyoung Park (Molecular Biology); Quality Coordinator, Tam Forster (Microbiology); Business Affairs Manager, Krutika Sen (Biotechnology) and Marketing & Communications Manager, Claire Smoorenburg (Biochemistry).