Marinova champions Australian organic industry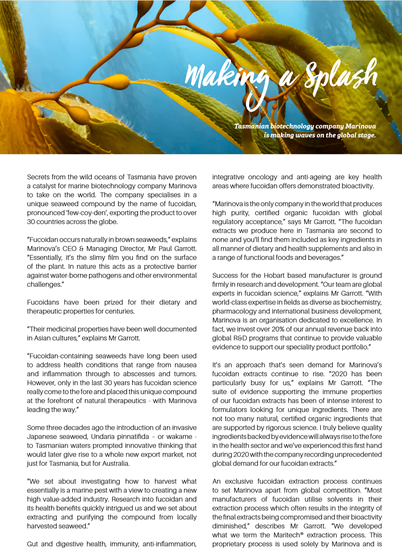 A commitment to the organic industry, and to sustainable manufacturing, has always underpinned Marinova's business philosophy. The company's Maritech® extraction process utilises green chemistry principles to produce fucoidan compounds of unrivalled quality. Unlike traditional extraction methodologies, the Maritech® process does not involve the use of solvents or other environmentally harmful chemicals. It is by virtue of this unique technology that Marinova stands alone as the world's only manufacturer of certified organic, high purity fucoidan with global regulatory acceptance.
Australian Organic, the peak body for the country's organic industry, recently published a feature on Marinova in their national quarterly magazine. The article highlights the company's commitment to organic certification and its importance in the global marketplace. In the words of CEO & Managing Director, Mr Paul Garrott, "Certified organic accreditation is very important to many of our clients. Now more than ever, consumers are demanding quality and integrity in their health products and are prepared to shop around to ensure their purchases align with their values. The Australian organic industry is well respected and it's essential that we maintain that quality and rigor to support a bright future for all producers."
The article, 'Making a Splash', was published in the Summer 2020/2021 issue of Australian Organic Connect magazine and is available here.