Nutritional Outlook showcases marine ingredients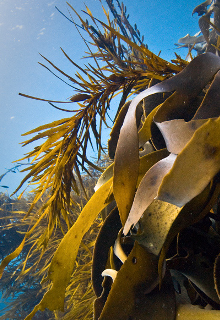 A leading global resource for manufacturers of dietary supplements and healthy food and beverages, Nutritional Outlook, has drawn attention to the flourishing marine ingredients market. The April 2020 edition of the globally distributed magazine features a detailed look at innovative algal ingredients that have risen to the forefront of natural therapeutics.
As quoted in the article, Marinova's Marketing and Communication Manager, Amanda Mackinnon, explained, "Extreme marine environments have necessitated the evolution of unique biosynthetic processes that give algae an abundance of nutrients and specialized bioactive compounds." One of these specialised compounds is fucoidan. Speaking of fucoidans, Mackinnon pointed out that these unique components of seaweed are part of a complex natural defence mechanism for macroalgae, providing protection from viruses and bacteria in the water. "With recent advancements of new technologies, complex algal derivatives like fucoidan can now be extracted and purified, giving rise to novel bioactive ingredients for nutritional and human health applications."
More than 1800 independent, peer-reviewed research papers have now been published on the bioactive properties of fucoidan. It is this research into the therapeutic properties of fucoidan that has given rise to the inclusion of the ingredient in a wide range of dietary supplements. "Immune modulation, digestive health, anti-inflammation, cardiovascular health and anti-ageing are just some of the human health areas being supported by fucoidan-containing products," said Mackinnon.
Included in the Nutritional Outlook feature is a unique look at the sustainability of the global fucoidan market by Marinova's Operations Manager, Dr Damien Stringer. "It is refreshing to see leading fucoidan producers at the forefront of green-chemistry, low-carbon manufacturing. Initiatives that transform both solid and liquid seaweed wastes from fucoidan manufacturing into new, value-added products for the horticultural sector are a great exemplar of these principles. So, too, is the development of sustainable technology and the use of renewable energy to drive these advanced manufacturing processes." Stringer finished, "The future of the fucoidan market undoubtedly lies with ingredients that are of superior quality and extracted from sustainable sources with traceable provenance."
The full article is available here.