Organic industry names Marinova 'Export Market Leader'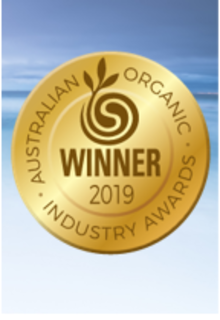 Marinova is delighted to have been named Export Market Leader in the 2019 Australian Organic Industry Awards. The awards, now in their sixth year, recognise excellence in the organic industry and showcase the outstanding achievements of leading Australian businesses.
Marinova is the only manufacturer of high purity, certified organic fucoidan in the world.
Marinova's cutting edge research and development team is renowned for its expertise in fucoidan – a unique marine ingredient that occurs naturally in brown seaweed. High quality fucoidan is in demand across the globe for nutritional, pharmaceutical and dermatological applications. It has demonstrated benefits in the areas of inflammation, digestive health, integrative oncology, immune function, anti-ageing, skin protection, cardiovascular health and viral inhibition.
CEO & Managing Director, Mr Paul Garrott, explained the unique extraction technology that underpins Marinova's success and has resulted in the Tasmanian-based operation exporting its fucoidan compounds to more than 25 countries worldwide. "Fucoidan is an innovative marine ingredient and ongoing scientific research continues to reveal the extraordinary health benefits that it has to offer. Marinova has developed the unique Maritech® extraction process utilising advanced filtration technologies to separate and purify fucoidan without the use of harsh solvents and other chemicals typically used by other manufacturers. A significant and ongoing investment in research and development sees our Tasmanian product stand alone as the only high purity, certified organic fucoidan in the world."
Marinova hand harvests wild seaweed, a rapidly renewable marine resource, from the cleanest of ocean waters in order to maintain the integrity of its fucoidan. All harvesting takes place on an environmentally sustainable basis. Mr Garrott highlighted the company's ongoing commitment to the organic industry and environmental sustainability. "Marinova has succeeded in diverting all of its seaweed residues away from landfill, and into new value-added products for the horticultural sector. Initiatives such as these now have us on the cusp of being a genuine zero-waste, carbon neutral manufacturer."