Regulatory frameworks open for fucoidan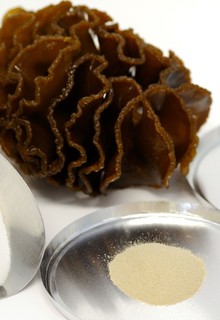 In recent years, fucoidan extracts have attained regulatory approvals in a number of global jurisdictions for use in food and dietary supplements. Of particular note, extracts from Undaria pinnatifida and Fucus vesiculosus have been granted 'Generally Recognised as Safe' (GRAS) status with the US FDA following an application by Marinova.
Speaking about the GRAS determinations, Marinova's Chief Scientist, Dr Helen Fitton, explained, "The daily consumption of high concentration fucoidan extracts from both Undaria pinnatifida and Fucus vesiculosus have been accepted at rates of up to 250mg/day. This provides the market with sound confidence that fucoidan can be safely consumed in a wide variety of products. However, it is important to note that only Maritech® fucoidan has been granted FDA-notified GRAS approval at this daily rate."
The same fucoidan extracts have also been assessed by the European Union and found to be substantially equivalent to the parental seaweeds from which they were extracted. Following novel foods approval under the Commission Implementing Regulation (EU), the market is experiencing a surge in interest in fucoidan for inclusion in a range of products.
In both Canada and Australia, respective agencies have approved a number of listed medicines containing fucoidan extracts. In Australia, fucoidans have been approved in a species-specific context for both Undaria pinnatifida and Fucus vesiculosus. They are recognised as listable components of their parental herbal (seaweed) source.
As outlined in a comprehensive new review paper recently published by Marinova's fucoidan research team, 'Therapies from fucoidan: New developments", and further explored in 'The manufacture, characterization, and uses of fucoidans from macroalgae', it is noted that not only do global regulatory approvals continue to expand, but so too does variation in the quality of commercially available extracts.
Studies showed that some fucoidan preparations sold commercially for use in food and supplements may not contain fucoidan as stated. Some appear to be alternative polysaccharides, whilst others may be substituted with glucose or cellulose. "We highly recommend manufacturers verify the provenance and identity of their ingredients before incorporating them into formulations. Consumers themselves are driving the push for verified and accredited ingredients in the products they purchase," said Dr Fitton.
With the demand for innovative nutritional ingredients reaching new heights, Marinova continues to build its reputation on the unrivalled quality and efficacy of its fucoidan extracts. The company's ongoing research and development program continues to see high purity, certified organic fucoidan placed at the forefront of natural therapeutics.