Supporting Tasmania's unique wildlife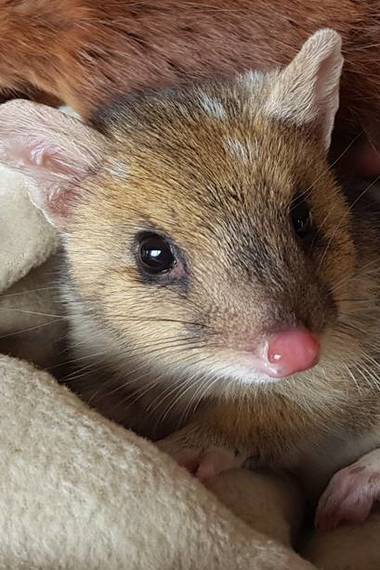 Marinova is passionate about supporting the communities in which it operates. In addition to contributing to a wide range of science and education-based initiatives, the company is an avid supporter of local wildlife conservation activities. Marinova's headquarters are located on the island state of Tasmania, home to some of the most unique wildlife on the planet. The company takes a proactive approach to ensuring these amazing animals receive the protection and care they need in order to thrive.
Marinova is an enthusiastic supporter of the wildlife conservation sanctuary, Devils@Cradle – a unique haven on the edge of the World Heritage listed Cradle Mountain National Park. Marinova has recently renewed its sponsorship of a young male Tasmanian Devil who is set to become part of an important breeding program. In addition, the company is also excited to announce the lifetime sponsorship of a rare Eastern Quoll (pictured above) through the Tasmanian Quoll Conservation Program. The Eastern Quoll is a small carnivorous marsupial previously referred to as the Eastern Native Cat. The species is a solitary nocturnal predator considered extinct on mainland Australia but remaining in the wild in Tasmania.
Marinova is also delighted to have become a supporter of the Flinders Island Wombat Fund. Wombats are short-legged, muscular quadruped marsupials native to Australia. They are burrowing herbivores that grow to about 1 metre in length. Flinders, a small Tasmanian island off the state's northern coast, is home to a unique subspecies of wombat, Vombatus ursinus ursinus. Wild wombats are frequently hit by cars when they graze on roadsides at dawn and dusk. The Flinders Island Wombat Fund supports the rehabilitation of hundreds of baby wombats that are left orphaned when their mothers are killed by motor vehicles. The baby wombats are retrieved from the mothers pouch, bottle fed and released into the wild once strong and healthy.
Speaking about the initiatives, Marinova's Marketing & Communications Manager, Mrs Amanda Mackinnon, said, "We are very pleased to be able to lend our support to these important conservation and rehabilitation activities. As a company grounded in science, our entire team is genuinely interested in supporting critical nature conservation programs such as these."