Can seaweed help in the fight against obesity?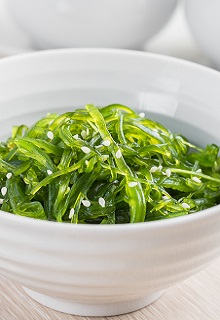 Obesity is a global epidemic that continues to pose a threat to human health. With only a small number of anti-obesity drugs currently available, there is a pressing need to find alternative anti-obesity agents from natural sources.
A comprehensive review paper in Marine Drugs, describes how seaweeds, especially from brown seaweed species, show promise in anti-obesity applications. In one study, the ingestion of Undaria pinnatifida seaweed by obese mice resulted in reduced body weight, energy consumption and serum levels of glucose and insulin. There was also a decrease in expression of the inflammatory marker IL-6 and lipogenesis (the formation of fat).
It is the bioactive constituents of seaweeds that are known to be responsible for these anti-obesity effects. Extensive research has shown that fucoidan – one of these key bioactive compounds – demonstrates diverse anti-obesity properties, including:
• decreasing the accumulation of lipids in fat cells
• increasing lipase, the key enzyme involved the breakdown of fat
• down-regulating expression of key adipogenic markers
These findings have been reflected in a human clinical trial involving the ingestion of fucoidan in 25 obese or overweight subjects. Results showed that fucoidan decreased diastolic blood pressure and LDL-cholesterol levels in subjects within a three-month period.
These findings confirm the benefit of using seaweed and its bioactive constituents in nutraceutical and dietary applications targeting weight management.