Is it fucoidan? Analysis reveals concerning results.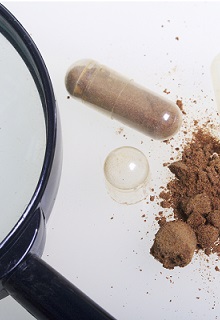 With the rapid evolution of the dietary supplement sector, new ingredient suppliers are constantly emerging. Manufacturers of algae ingredients continue to grow, both in number and in size. This growth is unsurprising given that the global algae product market is expected to reach $3.3 billion by 2022, according to Nutraceuticals World.
Over the past two years, Marinova has observed a jump in the number companies claiming to manufacture and supply high purity fucoidan extracts. However, the examination of more than a dozen commercially available fucoidan samples from around the world has revealed consistently poor quality, particularly in products produced outside the well regulated manufacturing jurisdictions of Australia, Japan and Korea. Many of the fucoidan ingredients originating from China and Taiwan were found by Marinova to be adulterated and a significant number contained no observable fucoidan.
All testing was undertaken using validated analytical techniques. One product sample of Taiwanese origin which purported to contain "85% low molecular weight fucoidan" actually contained no more than 4% fucoidan. Another sample manufactured in China and claiming "85% fucoidan" was completely insoluble and returned a zero-percentage carbohydrate profile when assayed, denying the possibility of the product containing any fucoidan whatsoever. The majority of "fucoidan" samples obtained and tested by Marinova returned similar results.
Dr Damien Stringer, Marinova's Operations Manager, commented on the analysis:
"These findings are very concerning, particularly for consumers who believe they are purchasing efficacious, high-quality fucoidan. Not only are these consumers being defrauded by unscrupulous manufacturers, but they are often ingesting a cheap commodity ingredient of unknown origin which may pose a safety risk when taken alongside pharmaceuticals in an integrative approach to treatment."
To eliminate these risks, Dr Stringer stresses the importance of product manufacturers and brand owners sourcing fucoidan from only reputable suppliers who offer transparency around the quality and traceability of their ingredients and who can substantiate their claims of purity. Ingredients for any nutritional application should also be supported by appropriate industry accreditations and internationally accepted regulatory approvals to ensure safety standards have been met.
The prevalence of inferior fucoidan ingredients is discussed in further detail in "The manufacture, characterization, and uses of fucoidans from macroalgae", a book chapter written by Marinova's Dr Fitton, Dr Stringer, Dr Karpiniec and Dr Park. It has recently been published in the following book: "Enzymatic Technologies for Marine Polysaccharides" (Trincone, A., 2019, Boca Raton: CRC Press).