Marinova commences gut microbiome clinical study in elite athletes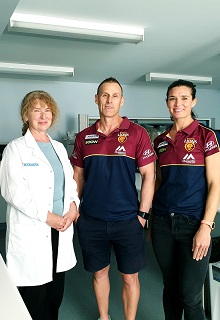 Marinova has teamed up with the Brisbane Lions Australian Football League Club and Griffith University to undertake a clinical trial investigating the health benefits of Maritech® fucoidan ingredients in elite athletes.
The commencement of the trial coincided with the Brisbane Lions' pre-season training camp in Hobart in January 2019. Running for seven months, the study will examine both the short and long term effects of fucoidan on the microbiome of athletes.
The human gut microbiome plays a central role in immune function and overall health. However, prolonged and intense exercise, such as that endured by professional athletes, is known to exacerbate inflammation in the gut and destabilise the microbiome.
This world-first study focuses on a unique blend of Maritech® fucoidan ingredients, combining extracts from both Fucus vesiculosus and Undaria pinnatifida species.
In preclinical research, Marinova's fucoidan ingredients have been shown to impart a range of gut health benefits, including reducing inflammation, balancing gut microbiome and inhibiting viruses and bacteria. This new clinical study will further confirm the benefits of Maritech® fucoidan in gut and digestive health applications.
Pip Taylor, Brisbane Lions Sports Dietitian, commented on the clinical trial:
"The Brisbane Lions Football Club is very excited to take part in this cutting-edge sports research. The study outcomes will provide insight into how this natural product can keep our players in prime health and assist them in adapting to their intensive playing and training regimes."
Leading industry publication NutraIngredients-Asia published an exclusive article on the commencement of the study speaking with Marinova's Chief Scientist, Dr Helen Fitton.
We look forward to sharing further updates as the trial continues.